American Idiot - Green Day
Green Day's hit 2004 album American Idiot sold very well, and Green Day hasn't had such a successful album since.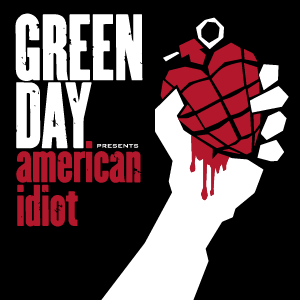 But is it good?
Tracks
American Idiot is the first track of the album, a great introduction to start the album off. Jesus of Suburbia follows, and I think its a good song, but a little too long for an average listening.
Holiday is pretty good too, and quite catchy at that. Boulevard of Broken Dreams, quite possibly the most popular song of the album, is one of the best songs of the album, but I've heard it too many times now.
The album takes a turn though, as Are We The Waiting is okay-ish, yet pretty unforgettable. St. Jimmy kicks things back up though, which is way more energetic.
Give Me Novacaine is sort of a mix of the slow pace of Are We The Waiting and the up-beat guitar of St. Jimmy, and I think it is a very under-rated track.
Extraordinary Girl is a good song too, but its fairly repetitive. Letterbomb comes next (getting dumped after one song? damn...), and it's very good.
Wake Me Up When Semptember Ends is a classic; an amazing song. Homecoming is good, yet it has the same problem as Jesus of Suburbia: it's too long.
Finally, Whatsername. Whatsername is under-rated gem of the album, and it is up there with Green Day's all time bests.
Conclusion
American Idiot has amazing songs, with just a few mediocre tracks.
Rating: 8.5 / 10